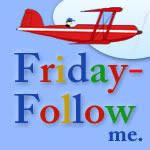 Hello friends and Happy Friday!!! Welcome to another edition of Friday Follow. Please feel free to look around. I have a lot going on:
Cassie's 100 Books in 365 Days Challenge
,
My Sweet Baby
, and more!! I'm also trying my hand at book reviews. I hope you all become followers and allow me to connect with each of you.
Have a great weekend all!!