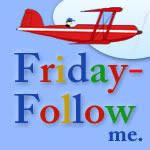 I'm taking a minute out of my busy day to drink my usual coffee (wish it could be injected via IV today) and visit my usual tradition of Friday-Follow. I look forward to visiting other bloggers each week via FF. And of course, I enjoy getting new followers each week!
Tonight I'm leaving at Lucy's bedtime to head to the beach (so she'll sleep in the car). We are making a stop in Savannah for the night and then heading over to Hilton Head tomorrow afternoon for a week seaside. I love the water. I am a water baby. I feel energized, yet relaxed, at the sound of the waves and that incredible view. I can sit and just watch the waves come in for hours. I say all of that to express an apology ahead of time for a more frequent absence this week. I'm just not sure about the wireless in our condo and therefore, I'm not sure about my connectivity with you fine people. No worries ladies and gentlemen, at the very least I'll be back next Sunday (hopefully with a boatload of book reviews)!
Happy Friday to you all and have a great week!!
~Cassie